(25.07.2023, 17:41)

Selur Wrote: "LWLibavsource over Mpeg2source", I assume you mean "LWLibavsource over FFMpegSource2".
..........................................................................................↑ That's the one yes 

 ↑
(25.07.2023, 17:41)

Selur Wrote: I don't get the "Empty indexing Call !!" message,..
-> create a new debug output with the dev version I send you.
Also check whether it makes a difference, if you (before doing anything):
a. create a specific tmp folder (and configure it under Config->Paths as the default temp path, save it as a default and restart Hybrid)
b. make sure your tmp folder and your source folder are on the ignore list of any anti-virus or other tool monitoring your system (also check task manager while opening the preview)
Can't reproduce this here at all atm., so if the above doesn't help, write down a step-by-step from a reset Hybrid, so I can try reproducing the issue here.
a. Done & b. done .. Although iam using just windows defender, and an Firewall solely for Lan connections .   I don't see how the firewall would hinder the working of even 3rd party tools, since it's setup only to check incoming / outgoing traffic nothing more...
But i have excluded the tmp folders anyway to be on the safe side..
(25.07.2023, 17:41)

Selur Wrote: Ps.: I did try loading a few mkv and m2ts files which are > 40GB with a playtime of 90-180min. Indexing took a bit, but with DGDecNV and FFMpegSource2 indexing progress was shown and I loaded those files from a classic hdd. -> to me it more and more seems something is interfering with the file access on your system.
I know EXACTLY what you mean, i bet that took quite some time reading such an huge file from an HDD.. even if its an 7200rpm or 10.000 rpm drive lol...  
But realy ? Does it need to create any index file at all? I mean , when iam in avisynth mode, hybrid doesn't seem to create / prepare at all and i get instant preview and results to see..
I actually see the results of the filters i have selected whitout the long delay !!
Even on an ssd, it takes an min or so to prepare an huge file/lenghty media file that way !??!
And to make things wurse, every time you exit and re-enter preview pane it has to re-create it all over again from scratch !!!
And that's ONE of the biggest reason why i emediatly installed 2x 1TB Nvme ssd in my build 

 , not just for loading games/apps but mainly for demux/remux or in this case speed up indexing /analyze processes !! 
It's like comparing an soapbox on wheels against an Mclaren 

So, i did the following...  I have reset all hybrids settings (ur latest releas i got through pm)..  Done steps A & B like requested ... 
And this ↓ is the result  

First: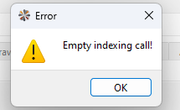 And then →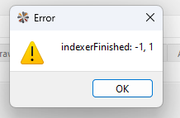 ps: attached debug
EDIT: i almost forgot, in taskmanager i saw vapour script open and closing an couple times during that time when i summoned the preview with errors !!
just , fyi..
cheers
TD